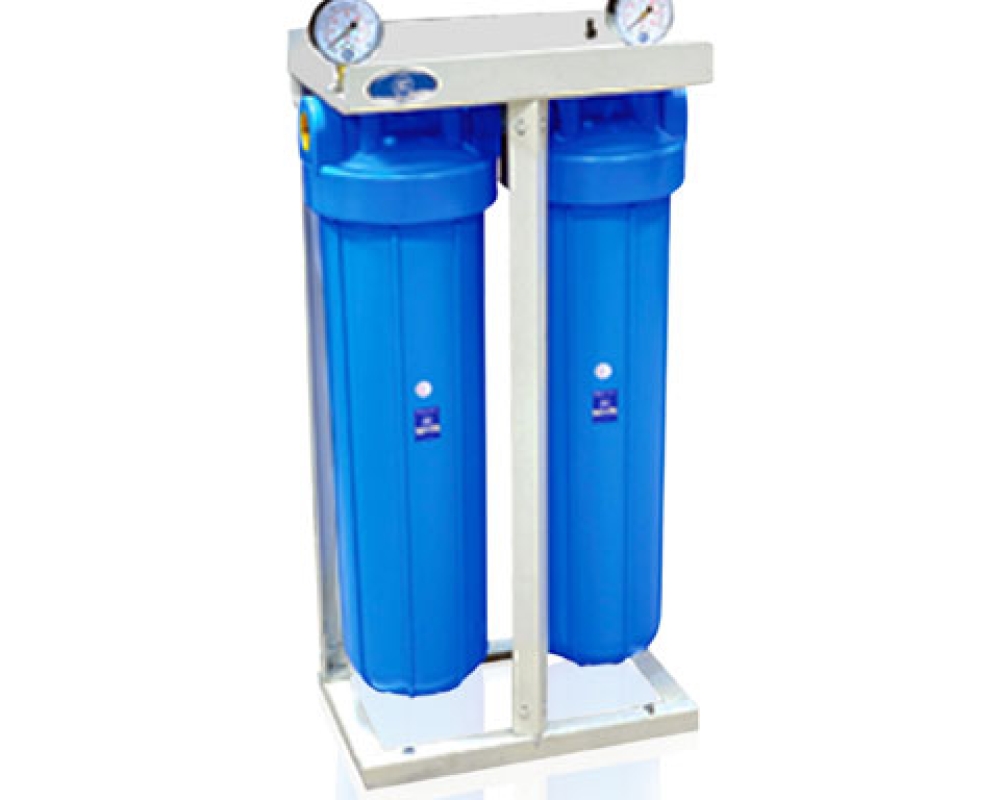 Big Blue® 2-stage total water filtration system
Product code: HHBB20A Big Blue
Origin: Poland – Made in EU
Material: PP plastic
Thread head: brass
Pressure relief valve: brass
Pressure gauge: 2 pieces
Dimensions: (H x W x L) 720 mm x 380 mm x 220 mm)
Filter cup size: 20″ x 4 1/2″ (508 mm x 115 mm)
Filtration capacity: 1800 liters/hour
Maximum working water pressure: 6 bar (90 psi)
Warranty 12 months


PROMOTION PROMOTION FROM 8.8 - 8.1.2022


Discounts when buying a water purifier:
5% discount on brand price + 5% discount coupon on Vicostone stone price.
Or
Installment 0% interest rate via credit card + 5% discount coupon on Vicostone stone price.
OUR COMMITMENT.
500% refund if found not genuine.

Free installation and shipping within Ho Chi Minh City.
Where do you buy it
Where do you buy it
---
Description
The Big Blue® upstream filter meets all the needs of customers requiring large filtration capacity. The system is designed for home, apartment and small and medium commercial building applications.

1. Produced and imported CBU from Europe.


2. Filter function of Big Blue upstream filtration system:

The filtration system includes 2 Big Blue 20" filter cups in blue color to protect the filter element in harsh environments. The lower end of the filter cup is rounded to enhance the pressure resistance of the system. The filter cup is also equipped with a pressure relief valve to release air when changing the filter element.

The system has the effect of removing mud, dirt larger than 5µm, removing chlorine in water (causes dryness of skin and hair) and unpleasant odors of water. In addition, this system also has the effect of softening the water (anti-limescale) and removing harmful chemicals such as pesticides left in the water.

3. High-end accessories.

High quality plastic material is durable for time in harsh environments.
Threaded head, valve head is made from brass.

4. 1 year warranty
Technical specifications
Model: HHBB20A Big Blue
Thông số chung
Dòng sản phẩm: Hệ thống lọc đầu nguồn
Chức năng: Loại bỏ bùn đất, các chất bẩn, loại bỏ clo trong nước (gây khô da, tóc) và mùi khó chịu của nước. Ngoài ra hệ thống này còn có tác dụng làm mềm nước (chống bán cặn vôi) và lọa bỏ hóa chất độc hại như thuốc trừ sâu tồn dư trong nước.
Chất lượng nước cấp: Nước thường, nước giếng khoan, nước máy….
Công suất lọc/ngày: 1800 lít/giờ
Áp lực nước làm việc: 6 bar (90 psi)
Bảo hành: 12 tháng
Kích thước và Trọng lượng
Kích thước: H720 x W830 x L220 (mm)
Trọng lượng: 15kg